By Dr. Glenda Pereira – Assistant Professor and Dairy Specialist, University of Maine 
For the past year I have been leading a Dairy Farm Cohort focused on wearable technology.
As a technical service provider funded by a contract with the Northeast Dairy Business Innovation Center (NE-DBIC), I provided technical assistance and education to a cohort group of 5 farmers. For this project, the objective was to utilize and implement Precision Dairy Technologies to improve production, health, and cow comfort.
Precision dairy technologies can help dairy farmers manage their dairy cows in a non-traditional manner.
Wearables are a technology that dairy cattle wear and these technologies can record behaviors such as eating, ruminating, standing, and lying. Data generated from wearables can be used to help detect estrus, lameness, and track the daily time budgets of dairy cows. However, one of the reasons for lack of adoption of precision dairy technologies by dairy farmers includes poor technical support and training as reported from a survey conducted by researchers at the University of Kentucky. Therefore, this was an opportunity to use funding from the NE-DBIC to provide 5 farmers with a wearable technology and provide technical assistance and training. 
Each participating dairy farmer received an eartag technology system that was installed in the beginning of February 2023 (Figure 1).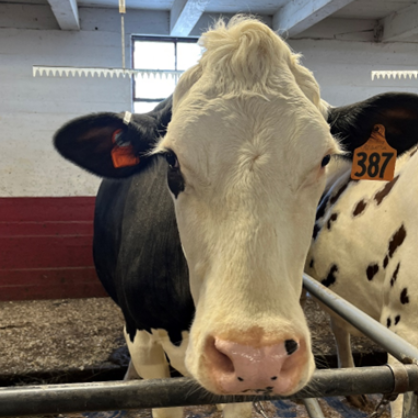 Figure 1
Each farm received 30 eartags total, and we strategically placed the tags on cows that support individual farm objectives such as improved reproductive performance, improving feeding management and management during the transition period, and increasing cow comfort. The eartag technology system records behavioral data such as rumination, eating, active, not active, and high active behaviors for every minute of the day (Figure 2).
Figure 2: Behavioral data of dairy cows by hour across 5 farms from the eartag technology system. The Y axis represents the minutes within 1 hour (60 minutes) that the animals spent conducting a behavior. The X axis represents hour of day.
The farmers have utilized the systems for 3 months and have utilized the individual cow and group data that is readily available to them for decision making. The system has allowed the farmers to detect silent heats (estrus) and detect metabolic issues early on to quickly implement a treatment plan. The technology system has an application that is downloaded on your phone and some of the farms now check the app every morning like checking Facebook or Instagram notifications.
The 5-cohort participating farmers vary in age, and dairy production system, as some are conventional, organic, and owner processors. The farmers have participated in 2 group meetings via zoom to discuss how to utilize wearable technology system. As part of the project, we will visit each of the 5 participating farms to discuss how the specific farm is utilizing the technology system. Our first in person meeting is scheduled for the week of May 15, 2023, and we are going to discuss how to utilize behavioral data to better manage lying time.
Over the past few months, dairy farmers have relied on each other to overcome the challenges of learning how to utilize the eartag technology, and making management decisions that improve production, health, labor efficiency and overall cow comfort. This is an example of the many strengths of participating in a cohort. While farmers may rely on technical service providers for educational information, farmers learn best from each other because they are the ones doing the day-to-day work and implementing new management strategies. In addition, the cohort provides them the opportunity to ask specific questions and learn from different perspectives and production systems. For this specific cohort, the less tech savvy farmers have a space to learn and adapt as implementing a technology requires a learning curve.
Being new in my role, working with 5 Maine dairy farmers has helped me build strong relationships with the 5 farmers and the Maine dairy industry. I have seen increased participation from the 5 farms at UMaine extension and there is increased awareness and interest in NE-DBIC grant opportunities. I have observed that the farmers have begun to create a community where they can support and help each other with management decisions outside of the project objectives, such as methods to enhance forage production. Working in a cohort has provided an opportunity for the farmers to socialize, and I foresee the group continuing to meet or network after the project is completed in the spring of 2024.
To learn more about this project and other work I am leading, be sure to sign up for our free monthly cows and crops newsletter or feel free to reach me at glenda.pereira@maine.edu and 207-581-3240.
Information in this publication is provided purely for educational purposes. No responsibility is assumed for any problems associated with the use of products or services mentioned. No endorsement of products or companies is intended, nor is criticism of unnamed products or companies implied.
---
Are you a technical service provider interested in leading a dairy cohort? Learn more about the Dairy Farm Cohort Technical Assistance Contract.